Christopher Descano
I am a professional headshot photographer based out of New York City, Philadelphia, and seasonally in Miami. I specialize in shooting corporate portraits and executive headshots. My clients have ranged from Goldman Sachs and Bank of America, to Siemens and Comcast. I've worked with financial firms, start ups, lawyers, doctors, and any other profession that you can think of in today's varied, business environment.
With years of photographic experience under my belt, I've enjoyed successfully helping globally recognized companies maintain their professional image, while working seamlessly with their respective marketing and public relation teams.
Having shot thousands of clients, my images have appeared on magazine covers in the US and as far away as Europe. I sincerely want thank you for taking the time to visit the site and learn a little about me, along with also allowing my team and I the opportunity to earn your business.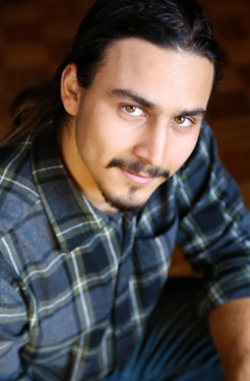 Taylor Kogut
I grew up in a small rural town in northeastern Pennsylvania where the only things to keep me entertained were my own two hands. I picked up the guitar and began actively practicing, joining bands and eventually playing gigs. With big dreams of having a career in the arts, I jumped headfirst into the Big Apple and surfaced with a degree in music production. Once experiencing all that is New York City, I decided to trek down the coast and give Philly a shot. Pursuing an audio engineering job in the music industry, I coincidentally landed at a great recording studio that also housed Chris' photography space. After some time working in the studio, I started assisting Chris on shoots here and there (carrying equipment, setting up lights and snapping a few pictures). From this point forward, I began developing a sincere interest in the art of photography.
I began asking more and more questions about his methods and techniques of taking pictures. Chris saw my dedication, artistic eye and willingness to understand. From under his wing, I learned an astonishing amount of information, which only fueled my newfound passion. I found that gaining experience was the best way to perpetually increase my knowledge and expertise, so I quickly spread my wings and began shooting on my own. The next thing I knew, I was shooting all over the city and meeting new and interesting people along the way from doctors, lawyers and CEOs to aspiring actors, models and pageant contestants. I've raced full-speed ahead, put the pedal to the metal and haven't looked back since.
The arts will always be a very important part of my life, and photography is a medium that allows me to continually follow my passions and creativity. Chris has been a great mentor and friend to me, and between his expertise and my experience, I've learned so much about the business, the techniques of taking outstanding photographs and how important it is to make sure every client leaves with a smile on their face.
When I'm not behind the camera, you can find me learning new instruments, enjoying the outdoors and collecting good bourbon.